title
: Beginning After the End
characters
: Martha Jones; appearances by Jack Harkness, Tish Jones, the Doctor, and various others.
rating
: G (maybe thematically PG?) pretty much, though the song
Dust of Ages
has one use of the word 'f---ing'.
spoilers
: To be safe, all of S3, and references to what I've read in interview spoilers about what Martha's doing during S4.
disclaimer
: I don't own any of it (or much else besides).
notes
: I've never been totally at peace with the way S3 ended, so in a lot of ways this was an attempt to exorcise those demons. I've been collecting the various songs for awhile now: songs that reminded me of Martha and how she feels about the Doctor and that reflected how the world must have changed for her after everything we saw her go through (or heard about her going through later). As a final note, one bit of fic is reused from my piece
No Longer at Ease (In the Old Dispensation)
, so if it looks familiar, it's because I plagiarised myself.
Compiled & Written for the

lifeonmartha
Countdown to Martha.
With infinite thanks to my beta,

lexiedoh
.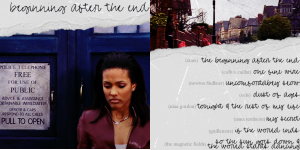 ( After every war/someone has to clean up./Things won't/straighten themselves up, after all. (Wisława Szymborska) )
-----
-Screencaps for cover art are from
Adventures in Time & Space
.
-I'm more than willing to upload things to different servers; just let me know. (It may take me a bit to get back to you, but it's really no problem.)
-Comments and con-crit are equally appreciated and adored. ♥